Why should you go for television Advertising?
You can target millions of people at the same time as Television Advertising is a mass medium and it appeals to everyone. Television advertising is all about sight, sound, and motion therefore it grabs the viewer's attention quickly, persuasively, and creates an emotional connection. Moreover, TV advertising is a more trustworthy marketing tool as it inherits the trust that the viewers have in the channel your product is advertised on and it directly makes TV advertising a great medium to build a brand personality and to achieve a great amount of brand loyalty.
Which different types of Television Advertisements exist?
When it comes to TV ads, the top of the head thought would be those video commercials. But there's a lot more to it than just that. Let's explore some options for TV advertising below.
Regular FCT Ads

The most popular format on TV. These are the TVCs that play during the break.

L Band

These are L-shaped ad strips played on TV while the content is being shown. These too cost a little more premium than regular ads as they're run during the course of the content.

Aston Band

These are those flash ads that appear at the bottom of the screen during various shows. They cost a little bit more premium than other formats as they're playing along with the show's content without taking a break.

Teleshopping Ad

These are product-specific ads run on TV, and produced in the format of programs. They can be anywhere between 10 to 30 minutes long and are mostly played in non-peak hours which also accounts for its lower advertising cost.

Scrollers Ad

These ads are those that keep scrolling from one end to the other on news channels. This is a shorter format of advertising and their rates depend on the channel they're being advertised on.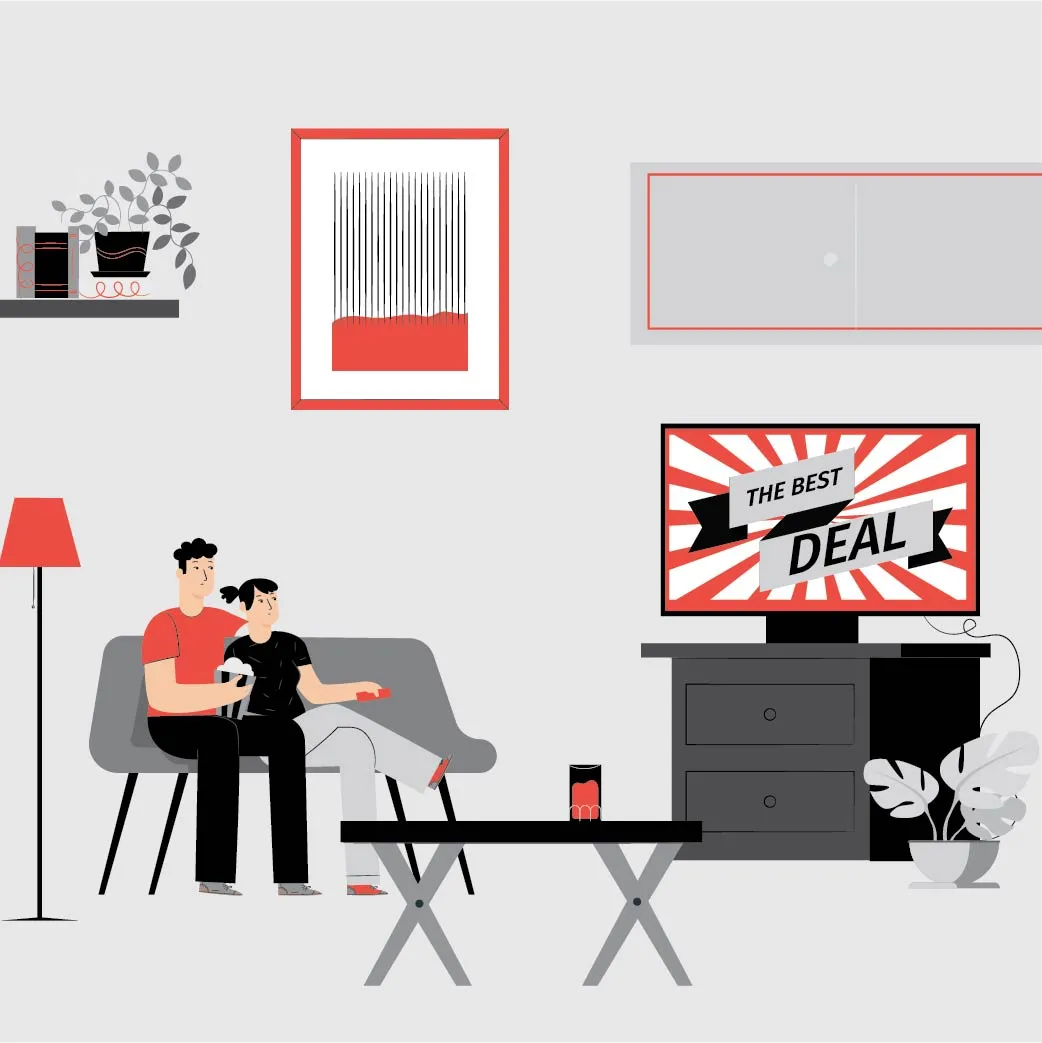 What are the rates of Television Advertising in India?
The cost of television advertising varies depending on the channels you choose to advertise on, their viewership, and TRPs during any given time slot. The standard quote for television advertising is given by the cost of a 10-second ad being played once. So, if a channel's rate for ads is ₹1000, then the advertiser has to pay ₹1000 every time that ad is played.
The time of the ad's appearance on screen is also a factor in deciding the cost. The time band with the brightest viewership is called 'Prime Time' where the cost is the highest. You can also choose to go for RODP (Run Of The Day Part) where the ads get equally distributed throughout the day. Apart from this, cost varies for HD & Non-HD channels.
The rates for television advertising are of course, not constant and keep varying from time to time throughout the year.
How to begin advertising on Television?
The easiest way to do this is by hiring an agency that can manage your television advertising strategy and negotiate the best deals for you with the channels. We at Excellent Publicity provide the best in class services for strategizing your advertising on TV and executing it to the best of its fruitfulness while adhering to your budget.
When is the right time to go for TV Ads for your brand?
There is no pinpointing a specific stage of business for this but once your brand has become strong in its roots and the vision & mission further are clear, it could be a good idea to go for television advertising. Even today, TV is an integral part of people's lives and the exposure given to brands through TV ads is immense. These ads are tractable and when executed right, can give you some really amazing results.
What channels should you choose to advertise on?
To take a simple example, if you are a fintech brand, it would make much more sense for you to advertise on finance-related or regular entertainment channels than to go for a music or kids channel. This would hugely depend on the kind of brand/business you have which is where we come in. We at Excellent help you identify the most optimized places and time slots to advertise your product/services.
Secondly, the way your TVC has been produced also makes for a factor in deciding the right channel to advertise on. Excellent Publicity has tie-ups with all major national as well as regional channels to help you with your strategy and television advertising requirements of all kinds!