What is Mall Advertising?
You must have seen ad banners in malls, outside stores, lift doors, escalators, etc. Those are mall display ads, usually back-lit advertising structures strategically placed within the shopping malls. They could be a front display, two or three-sided.
Shopping mall advertising involves both printed and digital displays that help to increase a brand's exposure. Mall advertising has become one of the best marketing methods to reach a targeted audience. Moreover, it's a fact that mall advertising attracts more customers as compared to video commercials and traditional marketing.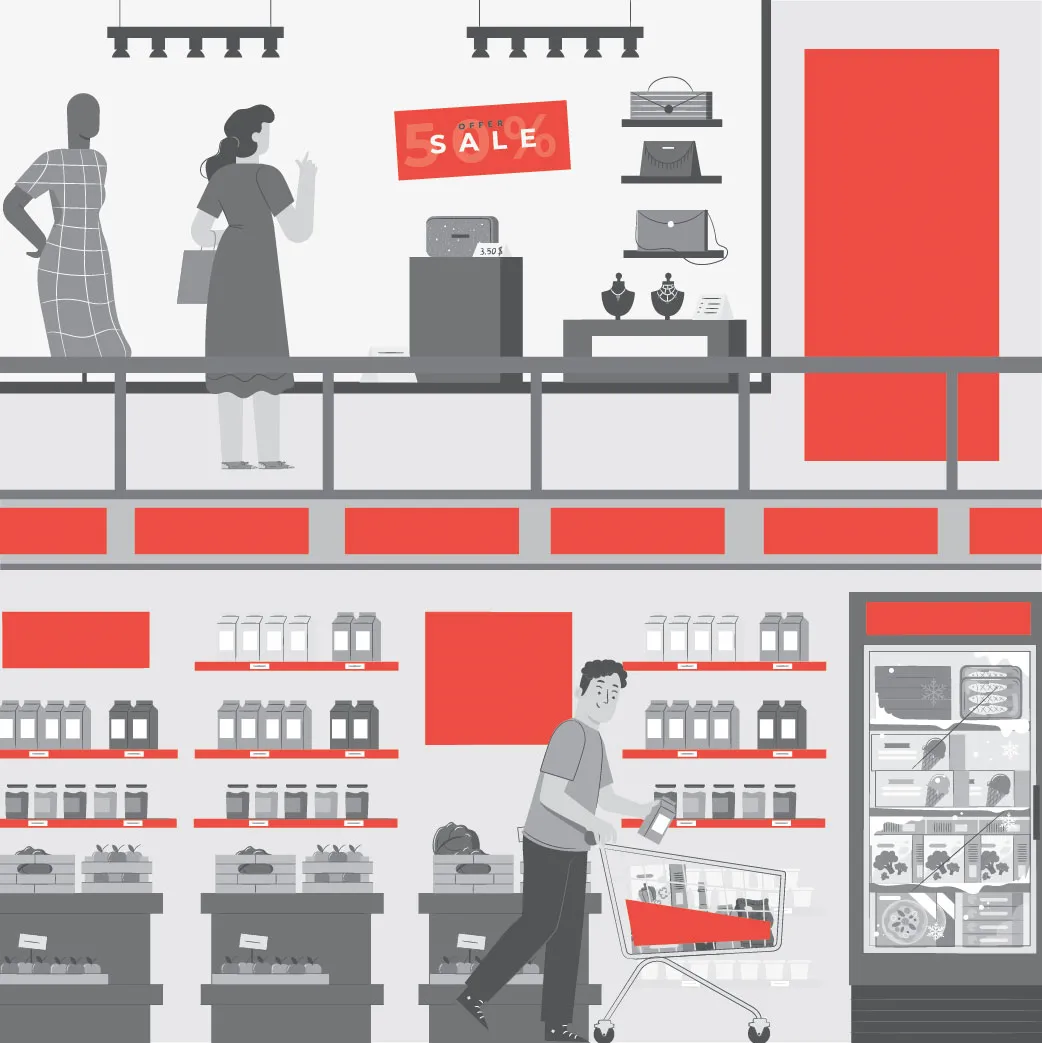 Why Should You Invest in Mall Advertising?
Advertising in malls is one of the most effective ways to reach a large audience at once. When it comes to advertising for fashion, accessories, and luxury brands, malls are the best place.
There are minimal places where people really are in the buying mood, and malls are one of those few. So, if you want to leave an impression, drive sales, enhance brand awareness, and increase traffic, mall footfalls are the best option. According to the statistics, 80% of visitors notice the digital and illuminated ads throughout the mall. Whatever the reason or purpose of the people visiting a mall, they can't ignore the vast ads. So, attracting customers through large, attractive banner ads is the best way to drive sales and traffic here. Also, mall ads are popularly known for influencing customers' buying decisions.
Who Should Consider Mall Advertising?
Although mall advertising is open to all brands and businesses, it works best for manufacturing products, luxury brands, fashion, and accessory brands. Also, this is the best option if your goal is to drive traffic to the stores and increase sales.
Where Should You Place Ads in Malls?
You need to think strategically when placing ads in a mall. Here are a few types of mall ads and where you can place them:
Mall Kiosks

Large displays generally placed in mall walkways. These are often backlit or have LED displays. Mall kiosks are a fantastic way to promote products and for product demonstrations.

Escalator or Elevator Wraps

These ads wrap around either an escalator or an elevator. These work best in multi-level malls, where there is likely heavy traffic.

Sky Banners

These are highly attention-grabbing ads that hang from the ceiling. They cover the empty spaces and successfully draw a lot of eyes.

Spectaculars

These are enormous ad banners usually placed outside the mall. They run around 60 feet wide and are best suited for large brands that want to make an impact.

Tabletops

Generally used in mall food courts, these can be of any shape, size, or design and kept on tables so that people can see your ad while they eat. Also, you get a lot of creative freedom here when it comes to the shapes and cutouts of these tabletop ads.
When Should You Consider Doing Mall Advertising?
Consider mall advertisements when and if you have a higher advertising budget. And not just that, you have to be strategic with the timing. Mall ads work best during festival seasons, seasonal sales, new product launches, etc. However, you can also consider going for regular mall ad banners if you have a fashion or luxury brand.
How Can You Do Mall Advertising?
You need to contact a renowned and experienced ad agency to get your ad placed in a mall. They can help you design, strategize and execute your campaign in various malls at affordable rates. Excellent Publicity is a well-established advertising agency headquartered in Ahmedabad with there roots in Pune, Delhi, and Dubai. Our highly experienced team can assist you with everything from designing to setting up your banners in some renowned malls.