After about 3.5 months, the Indian white-ball side will be back in action. On 8th December 2022, BCCI announced the upcoming match schedule for Team India's home season from January to March 2023. India's 2022-23 international home season will commence with a three-match T20I series against Sri Lanka starting January 3, followed by a three-match ODI series. The matches will be played in Mumbai, Pune, Rajkot, Guwahati, Kolkata, and Trivandrum.
The dates have only just been announced, and there are already so many theories floating in the air about which team has more chance of winning. Given the craze, there will be a huge crowd and online viewership. Hence, it is the best time and event for advertising.
With the ever-growing popularity, advertising is also getting louder and fancier. Therefore, brands worldwide are also looking to take this opportunity and advertise during India vs Sri Lanka series. With so many brands competing against each other, advertisers are going full throttle on creativity to grab as much attention as possible.
Now, there are several ways to advertise during a cricket match digitally. This blog will walk you through 6 ways to advertise in the upcoming India - Sri Lanka cricket match series.

6 Ways to Digitally Advertise In the Upcoming India - Sri Lanka Cricket Match Series
1. Giant LED Screen
The Giant LED Screen you see in the cricket stadium is one of the most famous advertising mediums in any live cricket match. Not only is it used to display the scores, third umpire decision, highlight, and audience glimpse but also for short advertisements from time to time. Usually, the brand logos are displayed on the screen for a span of 5 seconds, around 10-12 times. Advertising on this big led screen helps convey your brand message to the masses on both on-ground, OTT platforms, and channels.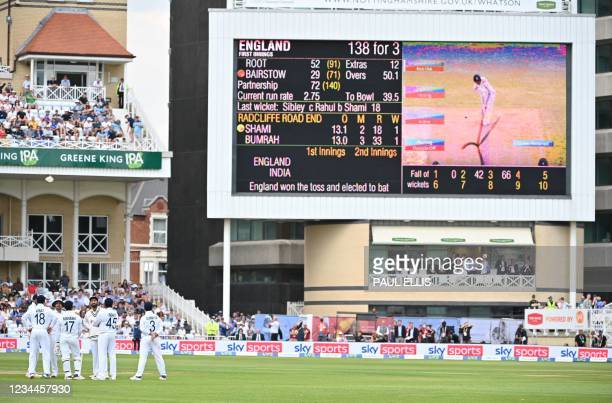 2. Digital Perimeter
Digital Perimeter is the 360-degree digital led board behind the boundary rope. These digital perimeters are the main attraction when there is a hit, and advertising on them during a live cricket Match offers your brand a top-of-the-mind recall to your target audience.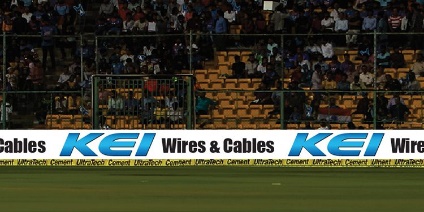 3. Digital Sight Screen
The sight screen is placed behind the batsman after and above the digital perimeter. This is another prominent advertising medium for brand awareness; the coverage per over ranges from 10-12%. The Led Sight Screen is shown whenever the bowler starts bowling or when a batsman hits a backshot. Advertising in live cricket matches on an LED screen boosts your brand engagement with your target audience, offering you unbeatable brand mileage. Moreover, according to several observations, the most advantageous spot for brand advertising during a cricket match is on the right of the sightscreen, facing the pavilion.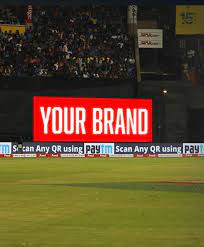 4. Video Ads on Disney+ Hotstar
Ever since the start of live online streaming of cricket matches on Hotstar, digital viewership has broken all records. According to the statistics, cricket matches on Hotstar crossed 1.7 crore viewers. So, Hotstar video advertising during live matches can help brands reach out to a young urban audience with a high affinity for digital transactions. Hotstar offers various ad types like pre-roll videos, mid-roll videos, and branded cards during live matches. The best thing about this ad format is that it allows you to target your customers based on age, demographics, location, & interest.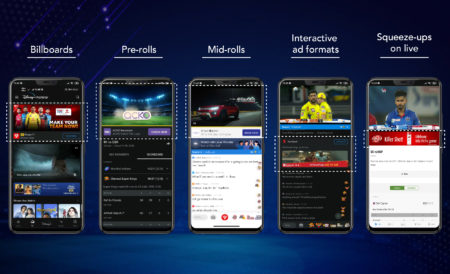 5. Disney + Hotstar Banner Ads
Banner ads on Hotstar are a great way to advertise your brand during live matches and for highlights of the matches. A conventional digital banner ad is a rectangular image ad that includes text displayed during the match. These ads are extremely beneficial to drive sales and help gain visibility.
Conclusion
Now that you've read the blog, you are well-equipped with information on how to digitally advertise your brand during the India - Sri Lanka cricket match series. One thing to keep in mind is the budget. If you have deep-loaded pockets, you can use more than 1 or 2 advertising mediums. If not, it's best to go for any one of the ways mentioned above based on the goal, target audience, and expected results. Also, you must ensure the quality of your ad creatives and campaigns is top-notch. It must be designed keeping in mind the specifications of the screen it will be displayed on.
You can learn better about these details from a renowned, professional advertising agency as they're well-versed in the requirements for cricket match advertising. One such renowned advertising agency is Excellent Publicity, headquartered in Ahmedabad, and highly skilled teams working across various national and international branches. You can contact them if you plan to advertise your brand in the upcoming cricket match series. All you need to do is let them know your requirements, and they will take care of everything from strategizing to getting it displayed. Since the match series is near, there is no time left to waste. So, contact them now.